Let's straighten things out… What is cosmetic dentistry and what treatments does it involve?
What is cosmetic dentistry?
Cosmetic dentistry is a branch of dentistry that focuses on improving the appearance of a person's teeth, gums, and bite. It includes a variety of procedures such as teeth whitening, veneers, crowns, orthodontics, and more. Dream Smiles offers patients both quality teeth whitening and veneer treatments.
The goal of cosmetic dentistry is to create a beautiful, natural-looking smile that is in harmony with the patient's overall facial appearance. The procedures are generally elective rather than necessary for oral health and they are intended to improve the aesthetic appearance of a patient's teeth and smile.
There are several reasons why you should consider investing in cosmetic dentistry. These include an enhanced appearance and improved overall oral health. Dream Smiles promises to help you meet your desired result by offering quality advice and experience in the field of cosmetic dentistry, as well as a team of qualified and experienced dentists.
What does the teeth whitening procedure involve?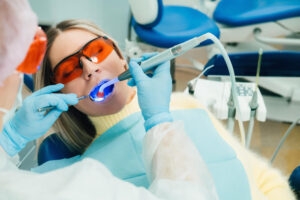 Dream Smiles offers patients Zoom! teeth whitening. This consists of either in-office or take-home teeth whitening. The procedure is a bleaching procedure that is used to lighten the shade of one's teeth. The procedure involves hydrogen-peroxide bleach being applied to the teeth, which is then activated with a blue light.
In-office teeth whitening is performed by a dentist or dental hygienist. This method uses higher concentrations of hydrogen peroxide and a specialised light to activate the whitening process. This procedure can whiten teeth several shades in a single appointment, which can last between 60 and 90 minutes.
At-home teeth whitening is supervised by a dentist and involves custom-fit trays that are filled with a whitening gel and worn over the teeth for a certain period of time, usually overnight or for a few hours a day. This method can take longer to see results, but it is considered to be more comfortable and convenient than in-office whitening.
What does a veneer procedure involve?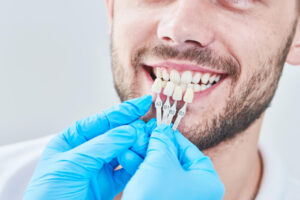 Dental veneers are thin, custom-made shells that are designed to cover the front surface of teeth to improve their appearance. They are made of porcelain or composite resin material and are bonded to the natural tooth to change the colour, shape, size, or length of the tooth. Veneers can be used to correct a variety of cosmetic issues, such as stained or discoloured teeth, uneven or irregularly shaped teeth, gaps between teeth, and worn or chipped teeth.
The procedure to place veneers typically involves removing a small amount of enamel from the tooth, taking an impression of the tooth, and then bonding the veneer to the tooth using a special dental cement. Veneers are considered a long-term, but not permanent solution, typically lasting between 10 and 15 years.
Whether you choose composite resin material or porcelain veneers is dependent on what your desired outcome is, as well as what your budget is. Composite resin veneers are more affordable and the procedure to place them is quicker than porcelain veneers. Porcelain veneers take longer to place and require two appointments to place, however, porcelain veneers last a few years longer than composite veneers.
Why choose Dream Smiles?

Dream Smiles ensures that they offer their patients their desired results and that they leave with a brighter and better smile. With a range of cosmetic and other dentistry options on offer, you're bound to find a procedure that suits you and will deliver your desired results.
Whether it's a general check-up, a specialised treatment, or just a consultation to ask questions or see what your options are, don't hesitate to contact Dream Smiles. Just call 07 3344 1220.